Occupational Therapy Aide Careers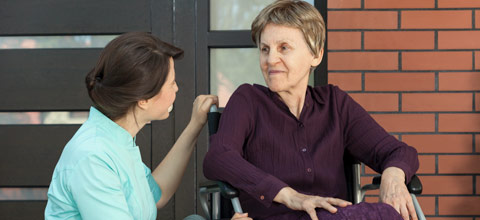 Occupational therapy aide careers are rewarding and can lend a great deal of personal satisfaction. You may work with patients with a variety of ailments, from diverse backgrounds and all age groups. If you have a passion for helping others, this program gives you a strong start toward your goal of becoming an occupational therapy aide.
According to the Government of Canada Occupational Summary, demand for occupational therapists and other professional occupations in therapy and assessment in Canada will outstrip supply over the period 2015 to 2024*. This is due in part to the increasing health needs of our growing elderly population. For instance, the elderly are more prone to debilitating conditions such as arthritis and stroke. They put their trust in the treatments provided by medical professionals, and occupational therapy aides play an important role working alongside professional occupational therapists.
Train now for an exciting career as an occupational therapy aide. Call 1-800-535-1613 or enroll online today.
Know the Requirements for Success. It is important to remember that licensing, apprenticeship, certification, training or other requirements may be applicable to some careers in some or all provinces or localities or to jobs with some employers. As a result, we strongly advise you to check with your provincial or local government (for example licensing board or apprenticeship agency) or potential employers to find out whether any of these requirements are applicable to the career or job that you have chosen.
SOURCE: Government of Canada, Canadian Occupational Projection System, Occupational therapists & Other professional occupations in therapy and assessment (3143) (February 9, 2017).