Become A Travel Agent
Introducing Penn Foster Travel Agent Course
PCDI is no longer accepting new enrollments into our Travel Agent Professional Certification program. If you're considering a new career in the travel industry our partner school, ICS Canada, offers an online Travel and Tourism Specialist Career Diploma designed to help you learn how to become a successful travel agent on your schedule, from home.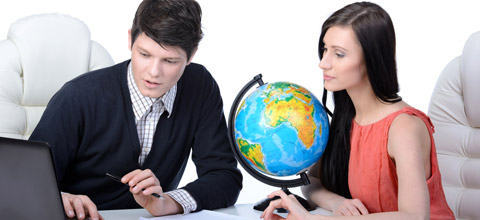 When you become a travel agent, you offer clients excitement and the potential for adventure. Many people train for careers in travel so they can explore the world on familiarization or "fam" trips. Fortunately, even as many individuals use the Internet to make travel arrangements, the specialized skills of travel agents are still in demand. Employment prospects are particularly positive for those specializing in specific destinations, custom tours and corporate travel.
Travel agents stay busy. On a typical day, a travel agent may evaluate client preferences; arrange tour packages, excursions and day trips; find fare and schedule information; prepare estimates of travel costs; reserve air and ground travel and lodging; ensure clients have the required passports and visas; give advice on local weather, customs and attractions; and more. At PCDI Canada we'll make sure you get trained, get connected and get ahead!
We'll teach you the insider tricks of the trade when you become a travel agent with courses from PCDI Canada. Call 1-800-535-1613 or enroll online now.
Know the Requirements for Success. It is important to remember that licensing, apprenticeship, certification, training or other requirements may be applicable to some careers in some or all provinces or localities or to jobs with some employers. As a result, we strongly advise you to check with your provincial or local government (for example licensing board or apprenticeship agency) or potential employers to find out whether any of these requirements are applicable to the career or job that you have chosen.