Heat Up Your Future with HVAC Careers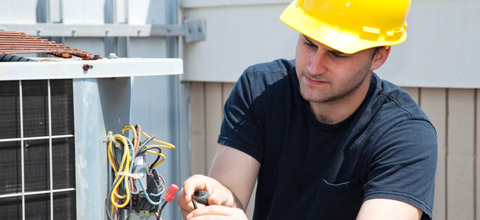 When you complete the HVAC training program from PCDI, you'll be qualified to acquire a position with HVAC service companies, contracting firms, HVAC equipment dealers and other HVAC-related companies. Those with formal training will have more opportunities in HVAC careers. The job outlook for HVAC careers is quite positive, not only because HVAC units need replacing every 10 to 15 years, but also because eco-friendly units are becoming increasingly more desirable.
For these reasons, the Government of Canada Job Bank forecasts good employment prospects in many localities for those who work on heating and air conditioning systems. Get started today!
Start a promising new career in the HVAC industry today. Call 1-800-535-1613 or enroll online today.
Know the Requirements for Success. It is important to remember that licensing, apprenticeship, certification, training or other requirements may be applicable to some careers in some or all provinces or localities or to jobs with some employers. As a result, we strongly advise you to check with your provincial or local government (for example licensing board or apprenticeship agency) or potential employers to find out whether any of these requirements are applicable to the career or job that you have chosen.