Cooking Careers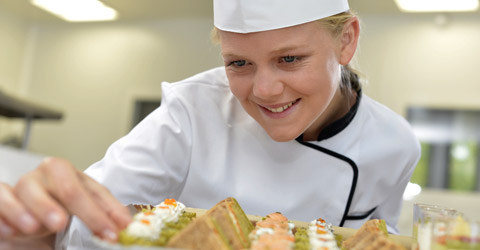 Cooking and catering careers are growing in many localities across Canada. Everyone appreciates well-prepared, nicely seasoned and nutritious meals, which is why employment opportunities abound for catering managers, food preparers, foodservice supervisors, bakery chefs, banquet managers, and operators of fine dining establishments.
Imagine preparing meals for busy families… creating fabulous soup-to-nuts dinners for fancy celebrations… and planning and serving banquets to hotel and conference room guests. Learn how to do it in our professional online training program. Graduate ready to start your own catering business or realize your dream of being a gourmet chef.
Cooking and catering careers are growing across Canada. Prepare now for a tasty future! Call 1-800-535-1613 or enroll online .
Know the Requirements for Success. It is important to remember that licensing, apprenticeship, certification, training or other requirements may be applicable to some careers in some or all provinces or localities or to jobs with some employers. As a result, we strongly advise you to check with your provincial or local government (for example licensing board or apprenticeship agency) or potential employers to find out whether any of these requirements are applicable to the career or job that you have chosen.