Forensic Science Careers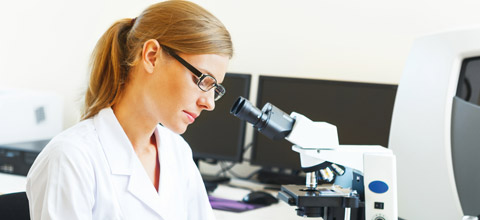 Forensic science careers are exciting and crucial to the judicial process. Imagine being a respected professional in the criminal justice field, analyzing crime scene evidence that will help bring criminals the justice they deserve.
In provinces across Canada, forensic specialists are staying busy providing vital forensic results to judges and jurors. Professionals in forensic science careers spend their days identifying, collecting and analyzing hair, fiber, chemicals, fingerprints and blood stains. Our course will teach you how it's done so you will graduate ready for the next step in your career.
Forensic science careers make for a fascinating future. Call 1-800-535-1613 or enroll online today.
Know the Requirements for Success. It is important to remember that licensing, apprenticeship, certification, training or other requirements may be applicable to some careers in some or all provinces or localities or to jobs with some employers. As a result, we strongly advise you to check with your provincial or local government (for example licensing board or apprenticeship agency) or potential employers to find out whether any of these requirements are applicable to the career or job that you have chosen.