Floral Design Careers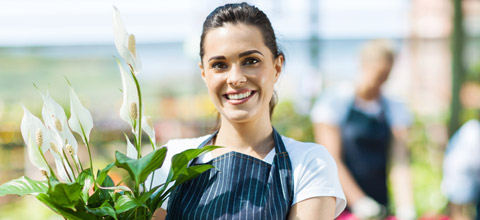 Floral design careers are blooming across Canada. Florists are staying busy designing custom arrangements for a variety of occasions, from birthdays and anniversaries to weddings and award celebrations. As a florist, you can express your creativity while creating wonderful designs and fruit baskets that convey emotions, from sympathy to appreciation to love.
Special holidays throughout the year, such as Mother's Day, Easter, and Valentine's Day, may keep you busy as a floral designer. And on other days you can be sure there are people who want to decorate their homes with flowers and purchase floral decor for special occasions of all kinds, from weddings to funerals. Once you learn specialized skills you can go far in floral design careers.
Floral design careers are growing across Canada. Become a professional today! Call 1-800-535-1613 or enroll online today.
Know the Requirements for Success. It is important to remember that licensing, apprenticeship, certification, training or other requirements may be applicable to some careers in some or all provinces or localities or to jobs with some employers. As a result, we strongly advise you to check with your provincial or local government (for example licensing board or apprenticeship agency) or potential employers to find out whether any of these requirements are applicable to the career or job that you have chosen.