Electrician Careers Spark Your Success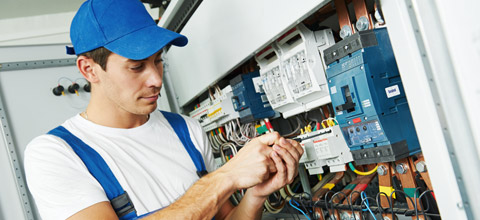 Electrician careers can spark a bright future for you. Wherever you live, in cities and towns across Canada, residential and commercial buildings rely on the skills of trained electricians to make sure wiring is installed correctly, electrical grids are operating safely, and electrical functions meet current codes.
The Government of Canada Job Bank predicts strong growth in the construction sector of the economy, indicating an increase in demand for trained electricians. New subdivisions and office spaces will require comprehensive installations. Emerging technologies such as solar and wind power will become increasingly more important, requiring electricians for installation and linking to homes and power grids. This is the ideal time to train for electrician careers.
Electrician careers will spark your success. Get trained now! Call 1-800-535-1613 or enroll online today.
Know the Requirements for Success. It is important to remember that licensing, apprenticeship, certification, training or other requirements may be applicable to some careers in some or all provinces or localities or to jobs with some employers. As a result, we strongly advise you to check with your provincial or local government (for example licensing board or apprenticeship agency) or potential employers to find out whether any of these requirements are applicable to the career or job that you have chosen.