Electronics Careers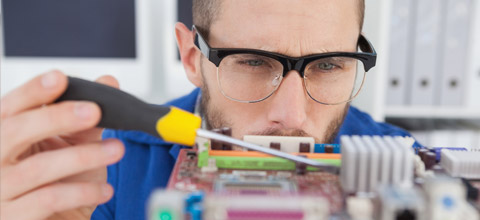 According to the Government of Canada, the number of electronics service technicians is rising significantly as a result of the proliferation of new household appliances that use electronic components and of the growing complexity and popularity of these appliances. This trend will continue over the next few years.
Electronics specialists perform a range of important tasks. They may be called upon to diagnose malfunctions in automated electronic control systems; repair and install sound, security and navigation equipment in cars; install and maintain sound, sonar, security, navigation and surveillance systems on trains, boats and cars; replace defective parts; reassemble and test equipment; and more.
Train now for an opportunity in fulfilling, lucrative electronics careers and get ahead. Call 1-800-535-1613 or enroll online today.
Know the Requirements for Success. It is important to remember that licensing, apprenticeship, certification, training or other requirements may be applicable to some careers in some or all provinces or localities or to jobs with some employers. As a result, we strongly advise you to check with your provincial or local government (for example licensing board or apprenticeship agency) or potential employers to find out whether any of these requirements are applicable to the career or job that you have chosen.