Wedding Planner Careers Are a Dream Come True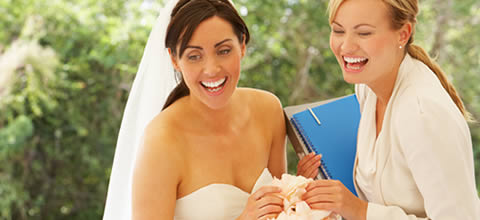 Wedding planner careers are on the rise. Many couples and their parents are too busy to plan the wedding, so they hire professionals to handle every detail, from the engagement party to the honeymoon. As a trained Wedding Planner, you will have the professional know-how to wear many hats as you meticulously plan and implement a couple's wedding wishes.
Wedding planning is an exciting career that can take you from a home office to many venues. Your important responsibilities start with discussing client needs and preferences. Next, you'll plan the scope of the wedding, develop a theme, choose party, wedding and reception locations, arrange guest lodging and services, solicit bids from caterers, florists, photographers, vendors, and handle last-minute requests. Training is your key to success.
Wedding planner careers are ideal for people who enjoy staying on the go and juggling a variety of responsibilities. Call 1-800-535-1613 or enroll online today.
Know the Requirements for Success. It is important to remember that licensing, apprenticeship, certification, training or other requirements may be applicable to some careers in some or all provinces or localities or to jobs with some employers. As a result, we strongly advise you to check with your provincial or local government (for example licensing board or apprenticeship agency) or potential employers to find out whether any of these requirements are applicable to the career or job that you have chosen.