Jobs For Personal Trainers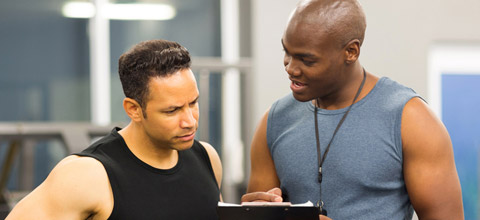 When you become a personal trainer, you will assist others in maintaining a healthy physique and staying toned and fit. You'll also be part of a profitable, growing field. The Government of Canada Job Bank forecasts good employment prospects for personal training related occupations in many localities. Become a personal trainer and you'll be able to design beneficial workouts, conditioning routines and personal training programs. Monitor weight management and sports nutrition, build flexibility and conduct fitness evaluations.
After earning your National Council on Strength and Fitness certification, you may find it easy to build a strong future in personal trainer careers. Certification shows you have professional-level skills, and many options could be available for you, such as a corporate fitness director, independent personal trainer, workout instructor at a health club, resort fitness leader and more.
Jobs for personal trainers are versatile and are plentiful across Canada. Call us now at 1-800-535-1613 or enroll online today.
Know the Requirements for Success. It is important to remember that licensing, apprenticeship, certification, training or other requirements may be applicable to some careers in some or all provinces or localities or to jobs with some employers. As a result, we strongly advise you to check with your provincial or local government (for example licensing board or apprenticeship agency) or potential employers to find out whether any of these requirements are applicable to the career or job that you have chosen.