Gunsmithing Careers
Program under redevelopment – currently not taking enrollments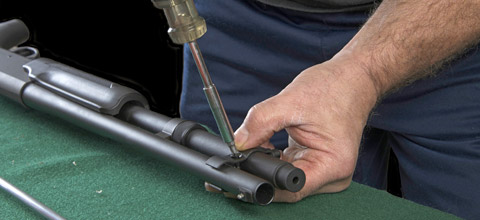 Working with firearms continues to be an important activity for hunters, sportsmen and gun enthusiasts and the firearms dealers, manufacturers and gun clubs who service them. The Government of Canada Job Bank forecasts good employment prospects for gunsmithing careers in many localities. Gun owners appreciate gunsmiths who can do basic maintenance, alter triggers and safeties and diagnose and fix accuracy problems. Skilled gunsmiths are the only people who can provide these services. Get trained, get connected to jobs, employers and clients and get ahead.
Gunsmithing careers prepare you for jobs in a variety of settings, including factories, armories and sporting good stores. Call 1-800-535-1613 or enroll online today.
Know the Requirements for Success. It is important to remember that licensing, apprenticeship, certification, training or other requirements may be applicable to some careers in some or all provinces or localities or to jobs with some employers. As a result, we strongly advise you to check with your provincial or local government (for example licensing board or apprenticeship agency) or potential employers to find out whether any of these requirements are applicable to the career or job that you have chosen.