Computer Repair Career Opportunities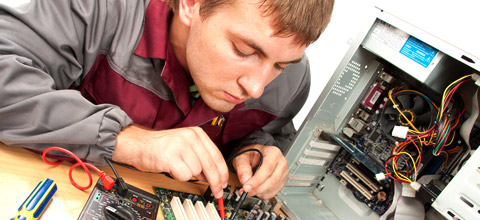 The outlook for computer repair careers is bright. Across Canada, you can enjoy a busy, growing profession once you graduate from PCDI Canada's Computer Service and Repair training. When PCs aren't working, you could be the local hero who gets them running again. You could also maintain computers for both individuals and companies and earn a good living for your services.
You can succeed in computer hardware and software repair working on your own as an independent contractor or as a full-time employee of any organization that relies on computers to do business. This means limitless opportunities await you! Our program even includes instructional material aligned to the 2015 CompTIA, A+ Certification exams and vouchers that students can use to attempt both the 220-901 and 220-902 exams.
Computer hardware repair training is your key to a successful future. Call 1-800-535-1613 or enroll online today.
Know the Requirements for Success. It is important to remember that licensing, apprenticeship, certification, training or other requirements may be applicable to some careers in some or all provinces or localities or to jobs with some employers. As a result, we strongly advise you to check with your provincial or local government (for example licensing board or apprenticeship agency) or potential employers to find out whether any of these requirements are applicable to the career or job that you have chosen.
NOTE: Students who wish to prepare for the CompTIA, A+ Certification exam are advised that CompTIA recommends that candidates for the A+ exam have a minimum of 6-12 months of work experience in addition to any formal computer repair training and A+ exam preparation.